In the latest episode "Good Vibes + Good People = Great Karaoke Spots," we talk to the owners of Black Parakeetz, a cool new spot in Nyack, NY that combines a swanky karaoke lounge with Paint & Sip to provide a unique experience. In the intro, we talk about what we love in karaoke spots, and I mention a work trip to Cincinnati.

I miss cities. Living out in a rural area, I don't have the same level of access to the energy and opportunities a city provides. Sure, living in a college town, I do still get some options for eating and drinking, but a city? Having all sorts of great things in walking or public transit distance is an unbeatable experience, and each city has a vibe, an intrinsic identity that sets it apart from other cities. Until this work trip to Cincinnati, I really hadn't explored the kind of things the 513 has to offer, and I'm regretting that now.
When I first got there, I helped a friend who recently moved to the city do some unpacking, and she gave me a great tour around some of the neighborhoods that make up Cincinnati. That gave me even more of a desire to explore the city and its karaoke options.
A quick internet search took me to my first stop on the short trip, and led to pretty much everything else that wasn't work related (aside from the absolutely necessary stop at White Castle).
Tokyo Kitty (575 Race St, Cincinnati, OH 45202)
By and large, I tend to not enjoy private karaoke lounges. A lot of my karaoke exploring is done doing solo travel, and flying solo to a private karaoke lounge is like paying money to sing alone. I can sing alone much cheaper in a bubble bath, with a bottle of whiskey next to me, than I can renting a private room for myself. However, when I was looking up options for Sunday night karaoke in Cincinnati, I saw they had a public main stage area that was open to the public, so I decided to make that my first stop on the trip.
You know a place is good if they have a painting of Eartha Kitt as Catwoman in their main area.
Even though it was a Sunday night and on the slower side, I could tell immediately that Tokyo Kitty was going to be a great place. At first, there were only a few other people in the open area--it sounded like a lot of singing was happening in the private rooms. I ordered one of their signature cocktails, a Suntory Highball (super simple and refreshing--Suntory whiskey, seltzer, and a lemon twist), and scoped things out.
After singing, I approached and was adopted by two great guys, Seamus and Slim, and hung out with them for the few hours I was there, dueting with Slim on Shaggy and Rayvon's "Angel" (Slim hit the high parts, I did my Shaggy impersonation). Six or seven people sang while I was there, meaning we all got a lot of songs in before I skipped out early. The rotation wasn't strict, but everyone kind of fell into a natural rotation. While we were hanging out, Seamus told me about a place the next night that was having karaoke, so I told him I'd check it out.

The Next Spot
The next spot didn't actually happen--they had cancelled karaoke for the night because of the weather (they had been doing karaoke in their outside patio area). I figured that, since I made the trip in, I might as well have a drink or two. Even without karaoke, the bar had a cool, welcoming vibe, so I tried some local beer and started looking up other options for the evening. While I was drinking my second, Seamus walked in. We talked for a bit, and he thought of another place that had karaoke that night, so we parted ways before meeting up at the other spot.
Arcade Legacy: Bar Edition (3929 Spring Grove Ave, Cincinnati, OH 45223)
Listen. I was not prepared for this place at all. Seamus described it as a chill place with an eclectic crowd, but it ended up being more than that.
Way more.
I walked in on the night of their Halloween costume and karaoke contest and, honestly, I couldn't tell if some of the people there were dressed up in costume or if that's just how they dressed. The first thing I noticed when walking in--it was like an arcade got transported from 1992, added a bar, and asked a bunch of folks with a punk rock aesthetic to come fill it. In the episode, Adam described how seeing it in Snapchat stories made him feel it was his ideal bar, and it may be--it was the bastard offspring of a dive bar and an arcade that I didn't know I needed in my life. They had a good selection of craft beers, regular beers, and liquor--and all at dive bar pricing.
I had to take a bathroom selfie, not because I'm inclined to take bathroom selfies, but because I wanted a record of me being in the bathroom at the place.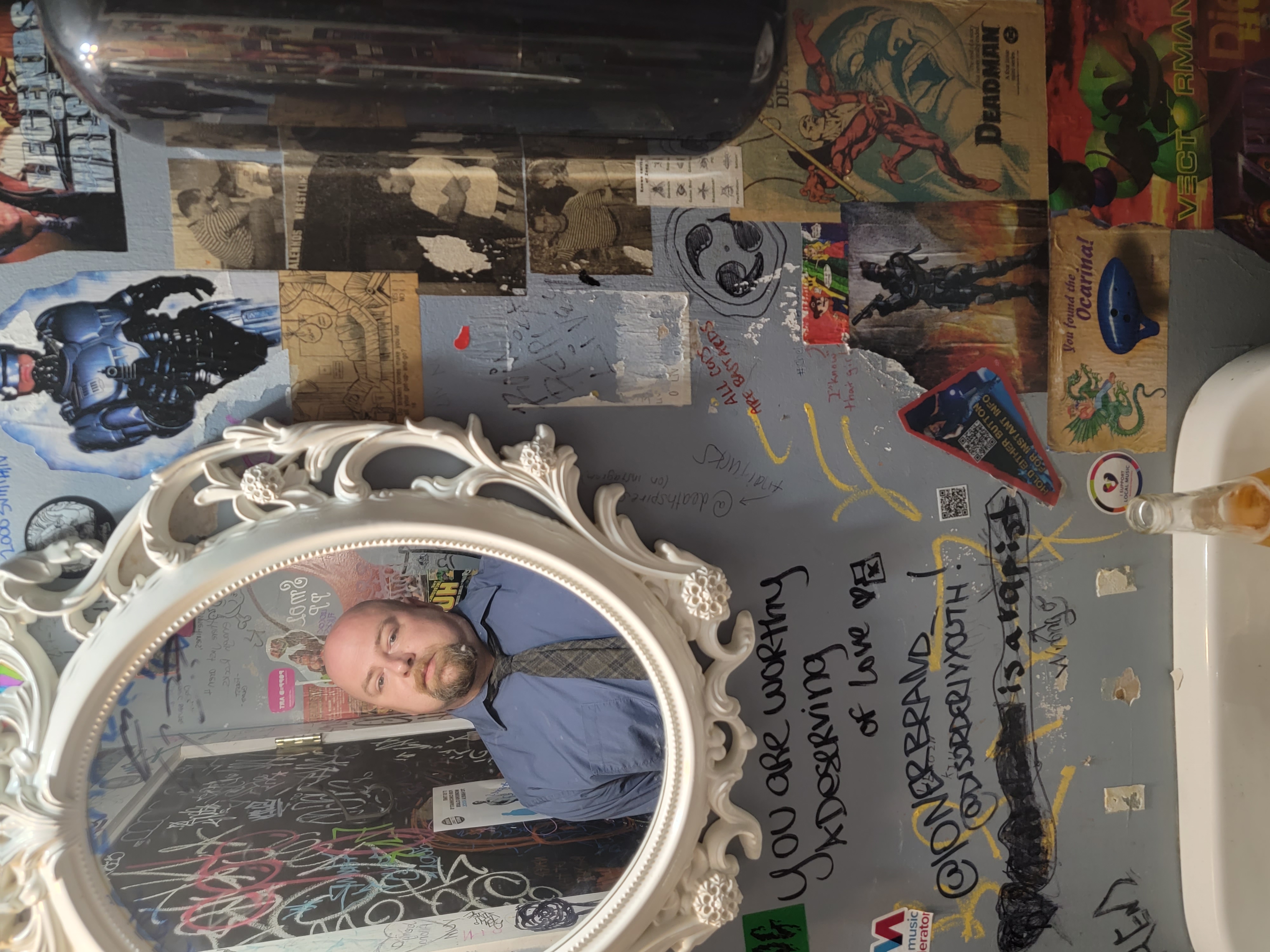 "Middle-aged man learns he is worthy and deserving of love from bathroom graffiti." Ed Cunard, 24 October 2021.
My favorite thing about the night--it was full of surprise, which is my favorite thing to find at a karaoke bar. Everyone was super welcoming, despite the fact that I looked like Paul Giamatti's character in Duets the first time he stumbled into a karaoke place while "out getting a pack of cigarettes" to escape a particularly horrible day at work and at home--wrinkled clothing, off-kilter tie, middle-aged man. I heard songs I had never heard at karaoke before.
I even heard songs I had never heard before, period.
Some of the highlights were: new pal Seamus doing David Bowie, new pal Jack doing a song from the "Evil Dead" musical, talking Dungeons and Dragons with a whole group of strangers, and getting to see someone dressed as Waluigi doing "Sexyback" and "W.A.P." before the night was over.
When we weren't singing karaoke, or when Seamus wasn't playing the "Popeye" arcade game, he kicked my ass at every machine behind Waluigi.
As it was a work trip, I decided to head out around midnight when the spooky song and Halloween costume contest was starting but, had I not had an early day the next day and a long drive back to Pennsylvania following it? I absolutely would have closed this bar down. I look forward to hitting it on another Monday night during a work trip.
Or, heck, maybe just a trip for fun.
I've still got a lot of Cincinnati to check out, after all.